Click here to see all pictures from November 2005

Ardwick Junction
More Pictures by Sony Ericsson K700i

This is the footbridge across the track at Ardwick station that sits in the middle of a junction. The tower near the left of the picture is some tower they are building in Manchester, the tallest tower in some area whether it's Manchester, the North or whatever I don't know, it looks strangely small here and yet down the road in Gorton it looks huge when you're driving down the A57 towards Manchester. I do plan to take a picture of it. I work 5 minutes away from it and have completely failed to take a snap in my lunch.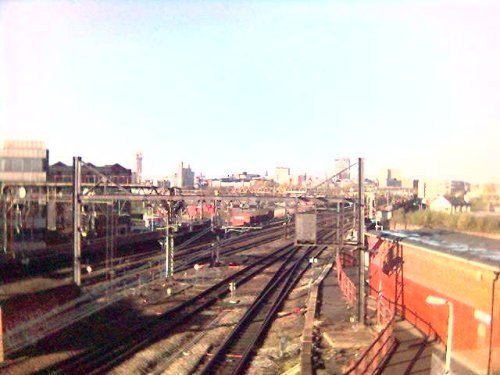 Tags: ardwick junction transport
2 comments have been left

Make a Comment
Comment Left By: John
Date 20:58 30 Dec 2009
Grandfather: William Islip R.......... was Signalman at ARDWICK JUNCTION! A Lincolnshire railwayman, as were his cousins in Lincolnshire. There was a direct line from Lincolnshire. Later, 3 lines south of Stockport, S. Manchester area, joined together to form "....................Committee".
---
Comment Left By: Zamyatin
Date 21:59 30 Dec 2009
John, Thanks for the interesting info.
---