Click here to see all pictures from December 2008

Blurry Landscape
More Pictures by Pentax Optio 50

I never said at the start of this they would be good pictures.

On Monday I took a walk around Manchester to find the skating rink now in the new Hardman Boulevard in Spinningfields if you haven't guessed. I did find it and was going to take my annual skate picture but chickened out. Last year I had my daughter with me and kids are a great excuse to do all sorts of things whereas this year it was lunch on a Monday and I thought that I may just look like a bit of a freak in my cycling jacket waggling a camera about at no-one I knew.

On the way to Bridge Street I saw this reflection so whipped out my TYTN II and took a couple of shots and walked back to my office wondering how brilliant they would turn out... the scene did look impressive until I downloaded them and found them blurred. There was camera shake all over the place which is one of the things I hate about digital cameras, they start giving you the impression that there enough light and take the picture and on the whatever inch screen they look good so you download them to find them less than reasonable. I would prefer them to tell you at the time that there could be camera shake and then perhaps you could take precautions.

So as you can guess this isn't a photo from Monday. No I stalked the building all week (all week it's only Wednesday) waiting for some sun and today was the day. But to be quite honest I wasn't feeling it. Perhaps it was the light because I don't think that was as good and perhaps I just felt way too busy at work to wander about taking pictures and perhaps add to that I wanted it to be a good shot. I don't know perhaps it was all of these things. The picture does have a feeling that I was trying to get across but the building reflected is really blurred but then again that's probably a trick of the eye when not looking through a camera. Without a camera a shot always look better and I think my camera chose to focus on the building rather than the reflection.

Anyway here's my effort. A new ultra-modern building reflected in a new ultra-modern building which is a pretty good description of Spinningfields. Another description would be an anonymous collection of glass and steel that could be anywhere and reminiscent of anywhere.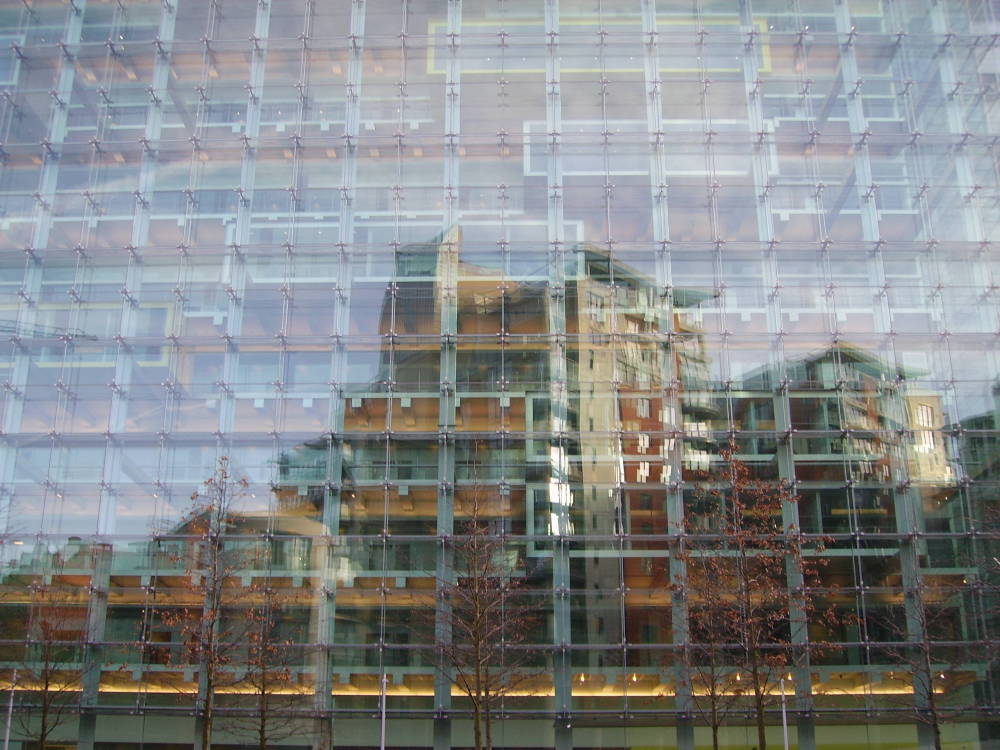 Tags: reflections spinningfields glass building
0 comments have been left

Make a Comment